Merge multiple mp3's together in a few clicks!
Are you looking for a program that can help you merge mp3s into one? You've landed in the right place! There are many audio players that claim to support it, but nothing beats joining the tracks in question into one large MP3 file that will surely not have any gaps between the tracks! Now you can listen to your favorite album, fully gap-less or join your favorite audio book into one, forever eliminating the problem of hunting for the next chapter. Just download "Merge MP3" – a multi-functional yet easy-to-use mp3 merger that can help you with a wide range of different audio formats and combining two or more .mp3 files into one. Look no further - "Merge MP3" is just the piece of software you have been looking for! No confusing menus, no tricky timelines, no fancy technical terms - just drag'n'drop your favorite compositions from Windows Explorer into the program window or add them through the program dialog, arrange them in the desired order and press the "Merge" button. The resulting track will be ready in a wink of an eye! Boasting a multi-language interface, an intuitive interface and an ID3v1 and ID3v2 tag editor, the program is perfectly functional and does its job very well - all that at a very affordable price! The program supports MP3, WMA and WAV sound tracks over 2 GB in size and lets you listen to your sound tracks from within the application using the built-in player. "Merge MP3" helps you join multiple tracks or parts of multiple files into one bigger file. This Audio Joiner has the ability to merge mp3 songs with fast speed without re-compression or quality loss and ability to handle large size data. It converts tracks among MPEG-1 Layer-3, WAV, WMA and OGG as an audio converter and provides convenient presets and parameters adjustment for you to customize the detailed parameters for each format. You can drag-and-drop simplicity to move or add files easily and join directly without costing any other disk space. By the simple interface, you can easily add or delete files to be merged& converted. On-the-fly merging, no temporary file generated and very ease to use!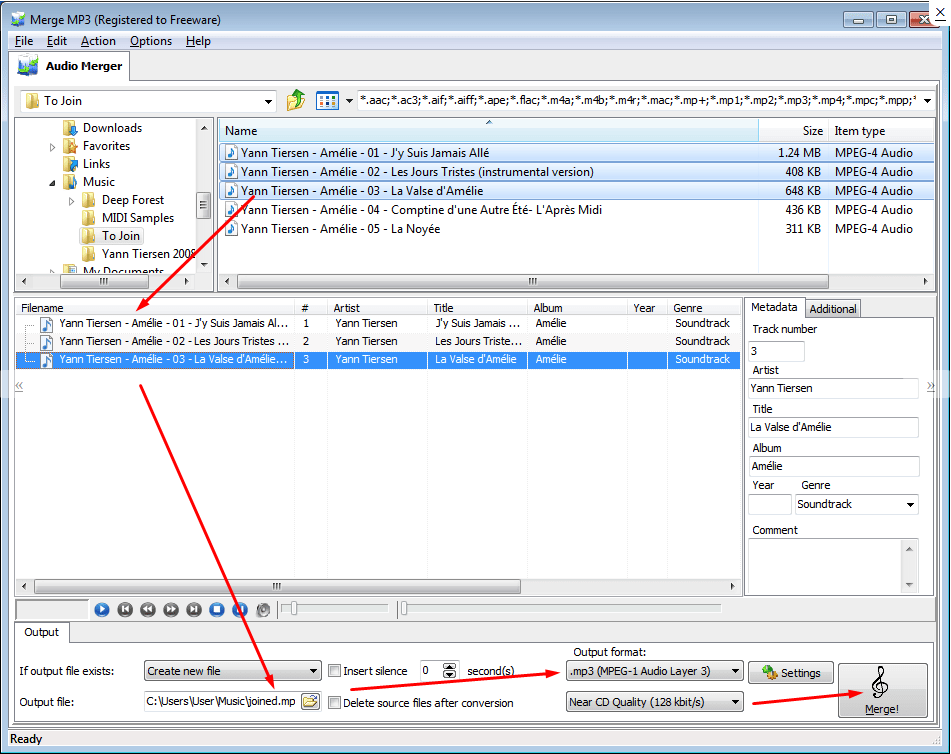 To satisfy the needs of customers, here, we mainly introduce an efficient and reliable MP3 Merger for you. This mp3 merging software is pretty simple to use and what you need to do is just three steps so that people who have no specialized knowledge can handle it effortlessly. "Merge MP3" is also perfect for professionals because it has advanced settings which can fulfill the requirement of optimizing MPEG-1 Layer-3 files. It can join mp3 files without re-encoding, or join MP3 clips as well as convert MP3 to other audio formats like WAV, AAC, M4A, AC3, WMA, MP4, AIFF, FLAC, etc. This MP3 Merger is the simplest and easiest to use mp3 joiner and song merger you can find. You can join multiple .mp3 files into one continuous file because Mp3 merger concatenates and combines mp3 audio files from end to end to play sequentially. Mp3 merger reads two .mp3 files as input and combines them quickly without losing the sound quality of the tracks. You may use mp3 merger to put all your favorite mp3 audio as a single file. This may be useful in creating a playlist for media players that don't support sequential play of tracks. You may use mp3 merger to combine small mp3 files into one file for storage convenience. There are many reasons to use "Merge MP3" and it's all up to you. You can choose the output format between multiple options. With "Merge MP3" you can easily combine mp3's into a single mp3, aac, ape, flac, m4a, m4b, mp4, ogg, wav or wma file. In fact, your source tracks don't even have to be MP3's – with software to merge mp3 files you can join aac, ape, flac, m4a, m4b, mp4, ogg, wav and wma tracks together just as easily! This "MP3 Merger" is suitable for creating long audio mixes, for uninterrupted play time, instead of composing a playlist, for instance. You may also set quality options, output file size, audio channels and bit rate. The mp3 software allows to choose between a constant or a variable bit rate and set the minimum, maximum and average values, from 32 up to 320 KB per second. This mp3 merger software can even
seamlessly merge files
between lossy and lossless formats. For example, you can join a bunch of FLAC and MPEG-1 Layer-3 files into a single compressed MPEG-1 Layer-3, aac, or ogg file, and vice versa.

Interval Adjustment
Most Audio CDs have periods of silence added in between the tracks to serve as delimiters between the tunes. MergeMP3 can produce joint tracks with customizable periods of silence between individual tunes – just like the audio CD does. And, unlike on CDs, you can choose your own length of a silence between the tunes.
Seamless mp3 merging with "Merge MP3"
Some CDs like medleys and remixes have no pauses between the tracks, featuring continuous, uninterrupted playback. When using MP3 Joiner to
combine .mp3 files
, you can opt for gapless playback by specifying zero-length pauses.
Join Songs, Conversations, Lectures and Voice Recordings
Mp3 Merger
can be used for a wide range of purposes. You can join two .mp3 files together in a number of formats or join short mp3 files captured by a voice recorder. If you used the recorder to record lectures, you can merge mp3 files into one to cover the entire recording out of the many different fragments. Finally, you may just want to reduce file clutter and join sound tracks in a variety of formats together into a single super-mix.
Merge MP3s in Batch Mode
MergeMP3 supports batch mode operation, joining entire folders full of sound tracks with just a few mouse clicks.
Support of Most Audio Formats
For
MP3 Merger
, it does not matter if the sound tracks you're merging come in a single or different formats. This Music Joiner can
join mp3 files
in a variety of audio formats, encoded with different codecs using different settings. It is easy to join files you downloaded together even if all of them come in different formats.
The following is the key features of this powerful and classic MP3 Merger:
Merge audio files of same/different formats, join multiple mp3 files to make a single large MPEG-1 Layer-3 track with ease
Direct joining without re-compression or quality loss
Configuration presets with frequently used parameter settings
High-speed batch conversion
Built-in audio player and tag editor
Very intuitive and user-friendly graphical interface with Drag&Drop from Windows Explorer
Merge any number of files – no limitations by size, length
Gapless merging for continuous uninterrupted listening
Adds customizable periods of silence in between tracks
Support for ID3v1 and ID3v2 tags
Supports freely playing the following audio formats like Vorbis, AAC, AC3, ALAC, OGG, OGA, MPEG-1 Layer-3, WAV, FLAC, WMA, M4A, M4B, APE, AIFF, MPC, SPX, etc.
Works on Windows 10, Windows 8, Windows 7, Windows Vista, Windows XP, and Windows 2000
Join MPEG-1 Layer-3 and many other audio formats as well as keep the source formats; Or join MPEG-1 Layer-3, WAV, etc as well as convert them to other formats
This Audio Merger has the ability to join or combine tracks with the same or different formats to MPEG-1 Layer-3, MP4, WMA, WAV, FLAC, AAC, M4A, OGG, AAC, AC3, AIFF, APE, CUE, MP+, MP1, MP2, MPC, MPP, OFR, 3GP, 3G2, OFS, SPX, TTA, WAV, WMA, WV, ALAC as source formats. Any separated tracks can be joined to the most popular audio formats as MPEG-1 Layer-3, OGG, WMA, WAV, etc.
Proven safe and free programs without any malware
User interface in 12 languages
"Merge MP3" System Requirements:
Minimum System Requirements
Microsoft Windows XP/Windows Vista/Windows 7/Windows 8/Windows 8.1/Windows 10 (32-bit and 64-bit)
1.0 GHz or faster processor
512 MB RAM
10 MB free hard drive space
Recommended System Requirements
Microsoft Windows XP/Windows Vista/Windows 7/Windows 8/Windows 8.1/Windows 10 (32-bit and 64-bit)
Pentium 4 or faster multi-core processor
1 GB RAM
10 MB free hard drive space

Step-by-Step Guide on How to Merge MP3 Music Files
MP3 is a common audio format for consumer audio streaming or storage, as well as a de facto standard of digital audio compression for the transfer and playback of music on most digital players. MPEG-1 Layer-3 is a very popular music format which can be played on multiple multimedia devices, such as portable music players, DVD players, smartphones etc. Every day, numerous people spare no effort to seek a powerful MP3 Joiner in order to join tons of MPEG-1 Layer-3 clips into one for storage or playback or join songs together online or combine two mp3 files online. Merging audio tracks together is now being popular due to the good things that it brings to all music enthusiasts. Unlike the traditional single track play which creates a fade away affect after each song, the merged audio files can be played continuously even after each song without any interruption. This benefits particularly those that love to play a long music list for hours. Now you don't need to upload your MPEG-1 Layer-3 tracks to join songs together online or merge two .mp3 files online, all you need - just download "Merge mp3" online. The other good thing when you merge mp3 files is that transferring it to other portable device and gadgets is now easier and more convenient, compare to transferring individual track that will take some time to accomplish. These are the basic key point that is why many music lovers tend to put all of their mp3 tracks in one audio file. What's the best way to merge mp3 files together? You can't join mp3 files together without the use of a tool, let's go deep into the various methods that can be utilized in combining multiple mp3 tracks all together. In this article, we will introduce two different ways you can use to combine several songs into one single track with ease (check out our complete guide on how to split MPEG-1 Layer-3 tracks instead if you want to cut your music file into separate tracks).
Method one
: how to merge mp3 file with audacity In the first method that we have we are going to use of a well known audio editor which is Audacity. Load MP3s into Audacity. To start with its audio merger function you need to install it first and launch it. Now on the Audacity's interface hit "File"; Open and load all of the .mp3 tracks that you want to join together. Combine .mp3 files. Next is go to the editor and highlight the part of the song that you want to join then hit the Edit button followed by Copy. After which move to the succeeding track, on the boards editor move the cursor at the end of the track and press Edit > Paste. Repeat this process until all of the mp3s that you wish to join for your project is done. Save the final audio track. The last thing that you need to do is to save the file that you just created. What you must do is to hit File > Export >look for the folder where you want to save the file, choose .mp3 file format and click Save . Just wait for few seconds and your new mp3 is ready. However, many individuals that utilize this audio editor have issues regarding its performance. These concerns include a hard to use user interface that can cause confusion especially for first time users. Since it needs to be installed, issues of lagging and unresponsiveness are also included in this problem.
Method two
: Make Preparation: free download and install this powerful MP3 Merger on your Windows, and then follow the step by step guide to combine audio tracks within minutes. Here we take "Merge Mp3" as example. Step 1 Add MP3 files you want to join to this MP3 merger - simply drag and drop sound tracks to the main interface of the program. Tips: Drag and drop the folder where the MPEG-1 Layer-3 files are to this Audio Joiner, if you don't want to add tracks one by one. Note that these MPEG-1 Layer-3 files are arranged according to the play order. So if you need to exchange the location of two MP3's, just free drag them to your wanted position. Step 2 Set output format. If you don't want to re-encoding, just select ".mp3 (MPEG-1 Layer 3)" and "Lossless" as output format. Choose other audio formats as output format if you'd like to change the target format. Step 3 Customize audio parameters: click Setting button to set audio parameters (sample rate, channels, bitrate) for the output format as you want. Step 4 Join .MP3 files Simply click big "Merge!" button on the lower right corner of the program to join .MP3 files into one in a flash. Now you can play the converted video on iPod, iPhone, Apple TV, Pocket PC, PSP, Zune, Mobile phone, VCD, SVCD, DVD devices. In this article, we show an easy way to join multiple .mp3 into one without re-encoding or convert the source tracks into other audio formats like WAV, AAC, M4A, etc. It is really worth a shot.